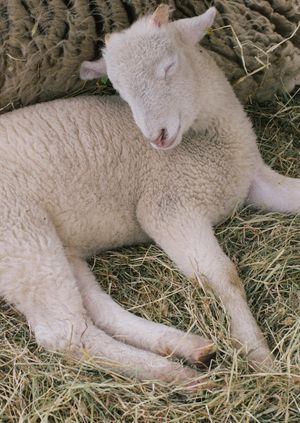 Wild Life Drawing Online: Lambs & Kids
8th May 2021 12pm - 1:30pm
Add to Calendar
2021-05-08 12:00:00
2021-05-08 13:30:00
Europe/London
Wild Life Drawing Online: Lambs & Kids
Join us to meet, draw and fall in love with the new arrivals on Vauxhall City Farm via live video link on Saturday 8th May. We'll be drawing baby lambs Petal, Poppy and Thistle and their mums, Bluebell and Clove – all Shetland Sheep – as well as Bing Bong (BB for short) the baby goat kid, and mum Pippa the Golden Guernsey Goat. Expect cuteness, chaos as well as some calm moments for some sketching too.The class will begin with an introduction from WLD founder and artist Jennie Webber, who will take you through the basics of drawing lambs and goats from life, with a focus on anatomy. There will be a drawing demonstration of the shapes and proportions to identify and some handy hints for capturing the fleece and the hooves. We will then switch screens to be introduced to the animals and we'll be chatting with Chris the Education Manager to find out all about sheep and goats and their lives on the farm. We'll spend around 75 minutes in the paddock with the babies, and there will be plenty of creative guidance and demonstrations along the way to help you with your drawings.The basic materials you need to take part are paper, a pencil, eraser and sharpener, but of course you are more than welcome to work in whatever materials you enjoy or have to hand. Please get in touch if you need advice on materials, we're happy to help! You will be emailed the Zoom link to join and 48 hours before the event is due to start, or in good time if you booked last minute. If you haven't received the link, do check your junk mail first and then get in touch and we'll make sure you have it before the event is due to take place. You just need one ticket per device, not per person. Suitable for families and all ages and abilities!50% of each ticket sold will be donated to Vauxhall City Farm. https://wildlifedrawing.eventcube.io/events/30250/wild-life-drawing-online-lambs-kids
Live virtual stream event
Event Details
Join us to meet, draw and fall in love with the new arrivals on Vauxhall City Farm via live video link on Saturday 8th May. We'll be drawing baby lambs Petal, Poppy and Thistle and their mums, Bluebell and Clove – all Shetland Sheep – as well as Bing Bong (BB for short) the baby goat kid, and mum Pippa the Golden Guernsey Goat. Expect cuteness, chaos as well as some calm moments for some sketching too.
The class will begin with an introduction from WLD founder and artist Jennie Webber, who will take you through the basics of drawing lambs and goats from life, with a focus on anatomy. There will be a drawing demonstration of the shapes and proportions to identify and some handy hints for capturing the fleece and the hooves. We will then switch screens to be introduced to the animals and we'll be chatting with Chris the Education Manager to find out all about sheep and goats and their lives on the farm. We'll spend around 75 minutes in the paddock with the babies, and there will be plenty of creative guidance and demonstrations along the way to help you with your drawings.
The basic materials you need to take part are paper, a pencil, eraser and sharpener, but of course you are more than welcome to work in whatever materials you enjoy or have to hand. Please get in touch if you need advice on materials, we're happy to help! You will be emailed the Zoom link to join and 48 hours before the event is due to start, or in good time if you booked last minute. If you haven't received the link, do check your junk mail first and then get in touch and we'll make sure you have it before the event is due to take place. You just need one ticket per device, not per person. Suitable for families and all ages and abilities!
50% of each ticket sold will be donated to Vauxhall City Farm.