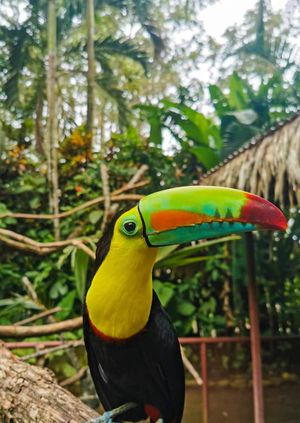 Wild Life Drawing Online: Toucans
6th May 2021 7pm - 8:30pm
Add to Calendar
Event Details
Really excited to announce another drawing class in collaboration with the Jaguar Rescue Centre in Costa Rica, featuring one of my favourite birds – the colourful, iconic Toucan! We'll be drawing not one, but two beautiful beaks belonging to birds that are permanent residents at JRC. Morgana is a Keel Billed Toucan and was just a young fledgling when she was found on the ground at La Ceiba Natural Reserve, the team at JRC suspect that she fell from her nest and sadly suffered brain damage meaning she wouldn't survive in the wild. We will also be drawing a lesser known toucan species – a Collared Aracari named Sunna, who came in with a leg injury but after her surgery, decided to stay at the sanctuary of her own free will!

We will be spending 90 minutes drawing these incredible birds and finding out about their lives in the wild and what those beaks are truly capable of! This class is the perfect excuse to get your brightest colour palette out!
Jaguar Rescue is an animal rescue and rehabilitation centre based on the Caribbean coast of Costa Rica, a country known for it's unique wildlife and it's pioneering efforts in the battle against climate change. The centre specialises in caring for sloths, primates, big cats and all other mammals, birds and reptiles that are injured by traffic accidents or other animals, electrocuted by poorly insulated power lines or affected by the illegal trade in wildlife. Their main aim is to re-release the animals back into their natural habitat, and providing a forever home only to those that would not survive in the wild.
The class will begin with an introduction from WLD founder and artist Jennie Webber, who will take you through the basics of drawing toucans from life. There will be a drawing demonstration of the shapes, proportions and anatomical features to identify and Jennie will be on hand to demo, feedback or dish out creative advice throughout the whole session. We will then switch screens to be introduced to the two terrific toucans, and we'll watch, draw and hear all about toucans from the team at JRC as well as learning about the dangers that affect these birds in the wild.
The basic materials you need to take part are paper, a pencil, eraser and sharpener, but of course you are more than welcome to work in whatever materials you enjoy or have to hand. Please get in touch if you need advice on materials, we're happy to help! You will be emailed instructions and the Zoom link to join 48 hours before the event is due to start, or in good time if you booked your ticket closer to the event. If you have not received your email 24 hours before the class please check your junk mail or get in touch with Jennie on info@wildlifedrawing.co.uk and you only need to book one ticket per device, not per person!
50% of each ticket sold will be donated to the Jaguar Rescue Centre.