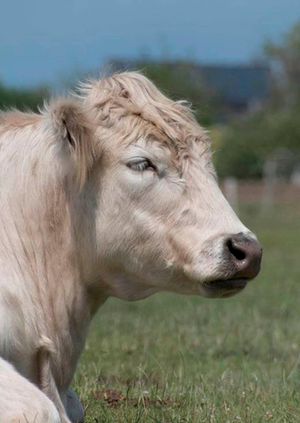 Wild Life Drawing Online: Farm Animals
10th Apr 2021 12pm - 1:30pm
Add to Calendar
2021-04-10 12:00:00
2021-04-10 13:30:00
Europe/London
Wild Life Drawing Online: Farm Animals
For many of us, farm animals will have been our first introduction to the animal world through children's books and family trips. But the sad reality is that thousands of farm animals endure lifelong suffering in terrible conditions – often out of sight – on industrial factory farms. The Farm Animal Sanctuary in Evesham was set up by Jan Taylor over 25 years ago to provide a forever home for animals rescued from slaughter, abuse or neglect and is now a safe haven for over 600 animals – cows, sheep, pigs, chickens, alpacas and donkeys. We will be collaborating with this amazing charity for a live Zoom class to draw a few favourite farm animals and to learn how we can use our voices and purchase power to help.Via live video link we will be meeting Josephine the Cow who was born by emergency caesarean at the sanctuary when her mother Jacqueline was brought in by a vet after recognising that she was in too poor condition to give birth naturally due to the horrendous conditions in which she was being kept. With the right food, shelter and loving care both mother and daughter survived, put on weight and have lived together happily on the sanctuary ever since. Then we'll be introduced to Freda the Pig who was rescued from appalling conditions and solitary confinement (pigs are social animals and need company) in 2016. Freda is now a kind and curious pig that loves nothing more than a belly rub! Our final model will be Charlie the Sheep, born on the sanctuary just last year after his mum Brenda was rescued, arriving malnourished and too weak to even stand. After a lot of TLC, both Brenda and Charlie are doing well and enjoy spending lots of time together.The class will begin with an introduction from WLD founder and artist Jennie Webber, who will take you through the basics of drawing animals from life, with a focus on anatomy. Before we meet each different animal, there will be a drawing demonstration of the shapes and proportions to identify and some handy hints for capturing the fur, fleece and facial features. Throughout we'll be chatting with Steph at the Farm Animal Sanctuary about the history of the animals, the charity and how we can get involved to help. We'll spend around 25 minutes drawing each animal, and there will be plenty of creative guidance and demonstrations along the way to help you with your drawings.The basic materials you need to take part are paper, a pencil, eraser and sharpener, but of course you are more than welcome to work in whatever materials you enjoy or have to hand. Please get in touch if you need advice on materials, we're happy to help! You will be emailed the Zoom link to join and 48 hours before the event is due to start, or in good time if you booked last minute. If you haven't received the link, do check your junk mail first and then get in touch and we'll make sure you have it before the event is due to take place. You just need one ticket per device, not per person. Suitable for families and all ages and abilities – though please note that some descriptions of the animal conditions may not be suitable for very young children.50% of each ticket sold will be donated to the Farm Animal Sanctuary. https://wildlifedrawing.eventcube.io/events/29695/wild-life-drawing-online-farm-animals
Live virtual stream event
Event Details
For many of us, farm animals will have been our first introduction to the animal world through children's books and family trips. But the sad reality is that thousands of farm animals endure lifelong suffering in terrible conditions – often out of sight – on industrial factory farms. The Farm Animal Sanctuary in Evesham was set up by Jan Taylor over 25 years ago to provide a forever home for animals rescued from slaughter, abuse or neglect and is now a safe haven for over 600 animals – cows, sheep, pigs, chickens, alpacas and donkeys. We will be collaborating with this amazing charity for a live Zoom class to draw a few favourite farm animals and to learn how we can use our voices and purchase power to help.
Via live video link we will be meeting Josephine the Cow who was born by emergency caesarean at the sanctuary when her mother Jacqueline was brought in by a vet after recognising that she was in too poor condition to give birth naturally due to the horrendous conditions in which she was being kept. With the right food, shelter and loving care both mother and daughter survived, put on weight and have lived together happily on the sanctuary ever since. Then we'll be introduced to Freda the Pig who was rescued from appalling conditions and solitary confinement (pigs are social animals and need company) in 2016. Freda is now a kind and curious pig that loves nothing more than a belly rub! Our final model will be Charlie the Sheep, born on the sanctuary just last year after his mum Brenda was rescued, arriving malnourished and too weak to even stand. After a lot of TLC, both Brenda and Charlie are doing well and enjoy spending lots of time together.
The class will begin with an introduction from WLD founder and artist Jennie Webber, who will take you through the basics of drawing animals from life, with a focus on anatomy. Before we meet each different animal, there will be a drawing demonstration of the shapes and proportions to identify and some handy hints for capturing the fur, fleece and facial features. Throughout we'll be chatting with Steph at the Farm Animal Sanctuary about the history of the animals, the charity and how we can get involved to help. We'll spend around 25 minutes drawing each animal, and there will be plenty of creative guidance and demonstrations along the way to help you with your drawings.
The basic materials you need to take part are paper, a pencil, eraser and sharpener, but of course you are more than welcome to work in whatever materials you enjoy or have to hand. Please get in touch if you need advice on materials, we're happy to help! You will be emailed the Zoom link to join and 48 hours before the event is due to start, or in good time if you booked last minute. If you haven't received the link, do check your junk mail first and then get in touch and we'll make sure you have it before the event is due to take place. You just need one ticket per device, not per person. Suitable for families and all ages and abilities – though please note that some descriptions of the animal conditions may not be suitable for very young children.
50% of each ticket sold will be donated to the Farm Animal Sanctuary.