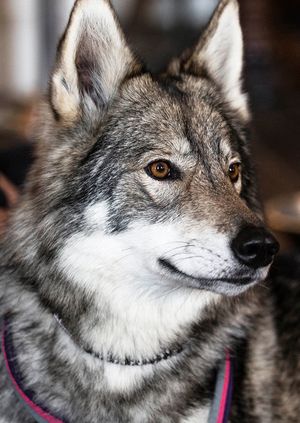 Wild Life Drawing: Wolves
27th Jun 2021 11am - 1pm
Add to Calendar
2021-06-27 11:00:00
2021-06-27 13:00:00
Europe/London
Wild Life Drawing: Wolves
This class is one of the rescheduled 'Wolf Puppies' that was due to take place at the beginning of the year, though now of course the pups have grown quite a bit! Nevertheless we will be meeting and drawing a few generations of this family of British Lupine wolfdogs, and I guarantee they will still be magnificent, beautiful and full of character! Despite being very well-behaved domestic dogs, this breed shares many visual similarities with wild wolves. The wolfdogs will be accompanied by their dedicated handler Natalie, a Behavioural Scientist specialising in canines and an expert on wild wolves. During the class, we'll be looking in detail at wolf anatomy and learn how wolf packs care for their young in the wild and how their family dynamics mirror our own. As well as drawing, we will discuss current conservation issues facing wolves across the globe – plus the results of their incredible reintroduction to Yellowstone.And 10% of each ticket price will be donated to Wolf Watch UK – a non-profit organisation that provides a remote 100 acre woodland sanctuary in Shropshire for wolves that have been displaced due to zoo closures, dominance fights or excess breeding that would otherwise have been euthanised. They're not open to the public, therefore keeping the environment for the wolves as close to their natural secluded habitat as possible.Booking with a Gift VoucherIf you would like to book this class with a new gift voucher then please enter the six digit code (random letters and numbers) at checkout to redeem this class. If you have old gift voucher (the code should start with WLD...) or if you have a voucher from another vendor (The Indytute or Not on the High Street) then please email us at info@wildlifedrawing.co.uk quoting the code to book your place on this class.Using a Ticket in CreditIf you have a ticket in credit and would like to use it for this class, please email info@wildlifedrawing.co.uk with the name and class of the original booking, and we'll be able to book you on manually.Tickets are non-refundable but can be transferable to another name. If you have any questions, don't hesitate to get in touch with Jennie on: info@wildlifedrawing.co.uk https://wildlifedrawing.eventcube.io/events/27330/wild-life-drawing-wolves
31 New Inn Yard, Shoreditch, London, EC2A 3EY
Event Details
This class is one of the rescheduled 'Wolf Puppies' that was due to take place at the beginning of the year, though now of course the pups have grown quite a bit! Nevertheless we will be meeting and drawing a few generations of this family of British Lupine wolfdogs, and I guarantee they will still be magnificent, beautiful and full of character! Despite being very well-behaved domestic dogs, this breed shares many visual similarities with wild wolves. The wolfdogs will be accompanied by their dedicated handler Natalie, a Behavioural Scientist specialising in canines and an expert on wild wolves. During the class, we'll be looking in detail at wolf anatomy and learn how wolf packs care for their young in the wild and how their family dynamics mirror our own. As well as drawing, we will discuss current conservation issues facing wolves across the globe – plus the results of their incredible reintroduction to Yellowstone.
And 10% of each ticket price will be donated to Wolf Watch UK – a non-profit organisation that provides a remote 100 acre woodland sanctuary in Shropshire for wolves that have been displaced due to zoo closures, dominance fights or excess breeding that would otherwise have been euthanised. They're not open to the public, therefore keeping the environment for the wolves as close to their natural secluded habitat as possible.
Booking with a Gift Voucher
If you would like to book this class with a new gift voucher then please enter the six digit code (random letters and numbers) at checkout to redeem this class. If you have old gift voucher (the code should start with WLD...) or if you have a voucher from another vendor (The Indytute or Not on the High Street) then please email us at info@wildlifedrawing.co.uk quoting the code to book your place on this class.
Using a Ticket in Credit
If you have a ticket in credit and would like to use it for this class, please email info@wildlifedrawing.co.uk with the name and class of the original booking, and we'll be able to book you on manually.
Tickets are non-refundable but can be transferable to another name. If you have any questions, don't hesitate to get in touch with Jennie on: info@wildlifedrawing.co.uk