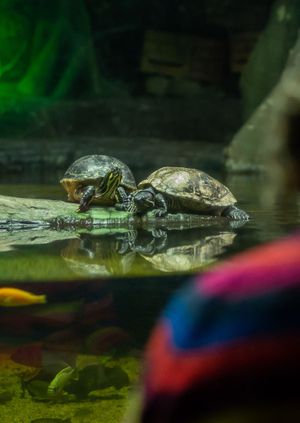 Wild Life Drawing: Animals of the Rainforest
10th Nov 2021 6:30pm - 8:30pm
at SEA LIFE London Aquarium
Add to Calendar
2021-11-10 18:30:00
2021-11-10 20:30:00
Europe/London
Wild Life Drawing: Animals of the Rainforest
We're finally back at the SEA LIFE London Aquarium to explore their incredible Rainforest area with another after-hours drawing class for charity. With a focus on the Amazonian waterways and dense jungles, we will be able to get up close and personal with dwarf crocodiles, snapping turtles, red-bellied piranhas, hissing cockroaches and leaf cutter ants, giraffe nosed cat fish, sleek arowana fish and terrapins that like to balance on top of each other! The class will start with an introduction to rainforest habitats and we will discuss the conservation issues affecting them; including deforestation due to logging and agriculture, commercial fishing, bio-piracy and poaching. Attendees will be able to head off to explore with their drawing boards, and helpful hints and guidance will be on hand from workshop leader, illustrator Jennie Webber. The aquarium works closely with it's partner charity, the SEA LIFE Trust, to protect marine wildlife and habitats across the world and to communicate key conservation message to it's visitors. It is also involved in several breeding conservation programs and works with many organisations including Whale and Dolphin Conservation Society, Save Our Seas, and The Shark Trust to increase the protection of marine reserves around the world. The charity have most recently set up a Beluga whale sanctuary in Iceland, providing a natural home for cetaceans rescued from aquariums and parks. 50% of each ticket sold will be donated to the SEA LIFE Trust, making a whopping total donation of £400!The drawing class is open to all, from beginners to advanced. All drawing materials are supplied, including paper, but please feel free to bring colours or any other specific media you might like to use. Drawing tips and guidance will be provided throughout the session. The aim of these drawing classes is to inspire a sense of appreciation and understanding for the animals and their conservation in the wider world.Booking with a Gift VoucherIf you would like to book this class with a new gift voucher then please enter the five digit code at checkout to redeem this class. If you have old gift voucher (the code should start with WLD...) or if you have a voucher from another vendor (The Indytute or Not on the High Street) then please email us at info@wildlifedrawing.co.uk quoting the code to book your place on this class.Wild Life Drawing is working with the best animal handlers, charities and organisations to put on these events. Tickets are non-refundable but can be transferable to another name. If you have any questions, don't hesitate to get in touch with Jennie on: info@wildlifedrawing.co.uk https://wildlifedrawing.eventcube.io/events/22981/wild-life-drawing-animals-of-the-rainforest
County Hall, Westminster Bridge Road, London, SE1 7PB
Event Details
We're finally back at the SEA LIFE London Aquarium to explore their incredible Rainforest area with another after-hours drawing class for charity. With a focus on the Amazonian waterways and dense jungles, we will be able to get up close and personal with dwarf crocodiles, snapping turtles, red-bellied piranhas, hissing cockroaches and leaf cutter ants, giraffe nosed cat fish, sleek arowana fish and terrapins that like to balance on top of each other!
The class will start with an introduction to rainforest habitats and we will discuss the conservation issues affecting them; including deforestation due to logging and agriculture, commercial fishing, bio-piracy and poaching. Attendees will be able to head off to explore with their drawing boards, and helpful hints and guidance will be on hand from workshop leader, illustrator Jennie Webber.
The aquarium works closely with it's partner charity, the SEA LIFE Trust, to protect marine wildlife and habitats across the world and to communicate key conservation message to it's visitors. It is also involved in several breeding conservation programs and works with many organisations including Whale and Dolphin Conservation Society, Save Our Seas, and The Shark Trust to increase the protection of marine reserves around the world. The charity have most recently set up a Beluga whale sanctuary in Iceland, providing a natural home for cetaceans rescued from aquariums and parks. 50% of each ticket sold will be donated to the SEA LIFE Trust, making a whopping total donation of £400!
The drawing class is open to all, from beginners to advanced. All drawing materials are supplied, including paper, but please feel free to bring colours or any other specific media you might like to use. Drawing tips and guidance will be provided throughout the session. The aim of these drawing classes is to inspire a sense of appreciation and understanding for the animals and their conservation in the wider world.
Booking with a Gift Voucher
If you would like to book this class with a new gift voucher then please enter the five digit code at checkout to redeem this class. If you have old gift voucher (the code should start with WLD...) or if you have a voucher from another vendor (The Indytute or Not on the High Street) then please email us at info@wildlifedrawing.co.uk quoting the code to book your place on this class.
Wild Life Drawing is working with the best animal handlers, charities and organisations to put on these events. Tickets are non-refundable but can be transferable to another name. If you have any questions, don't hesitate to get in touch with Jennie on: info@wildlifedrawing.co.uk